I've been writing a lot of posts recently but within each post I get to a point where I stop and pause. There's one topic that reoccurs within discussions about autism and I've not felt ready to go into it fully. I think it's finally time I do, however, so here it is: my post on ableism.
Ableism is simply discrimination in favour of abled people. Strangely enough, though, we don't see it discussed and portrayed in the same way things like racism, sexism and homophobia are. This isn't to say that ableism needs more attention because it's worse, just that it's so erased that many people don't even know that it has a name. "Racism for disabled people" is one of the one's I've heard a lot.  As I said in a previous post, autism is described as a neurodevelopmental disability, thus prejudice and discrimination against autistic people falls into the category of ableism. Obviously, ableism is something that many different disabled people face but as I am an autistic person with no other disabilities, I can only talk about it from my own viewpoints and the viewpoints of those within the autistic community.
Ableism doesn't just come in the form of bullying, although that is something a lot of autistic people face. Part of ableism is the names we're called by other people for not processing something quickly or stimming in public, but it spreads a lot further than that. Ableism isn't just the "you can't play with us because you flap your hands" comments we see on the playground. It spreads a lot deeper than that, even into the language some people use on a daily basis on issues surrounding autism and autistic people because they think it is acceptable.
Functioning Labels
A key example of this normalised ableism that everyone has heard of is functioning labels. This is when autistic people are divided into high functioning and low functioning. Functioning labels are inherently flawed for many reasons, but largely due to the fact they're unrealistic and somewhat ridiculous. These flaws can be summed up in one simple tweet that I've found:
I've heard and seen so many conversations, online and in real life, that use these labels, so much so that I can confirm this tweet is correct. I remember seeing a post, not too long after a diagnosis was suggested to me, from a girl who was very annoyed at autistic people on the internet accepting themselves because her brother had what she called 'real autism' – he was what she considered 'low-functioning', and these 'high functioning' people on the internet didn't understand the struggles her brother faced. This girl was not a professional, but we see this in professional communities as well. I've been told, from a simple glance, that I couldn't be autistic because I didn't seem autistic. I've heard 'you're a pretty and intelligent young girl' as reasoning more than enough times – "used to deny support".
Just because I didn't fit the media-influenced idea of autistic people – a young boy with headphones who doesn't make eye contact and cannot verbally communicate- I was one of two things: 1) not autistic or 2) high functioning. The amount of people you can find online who've plucked up the courage to tell people that they're autistic – putting themselves at the risk of verbal, ableist abuse – who get the response "oh so you must be high functioning" is ridiculous. What's more ridiculous is how this is seen as a compliment. How is it a compliment that you're detaching that person from people just like them because they don't quite fit your stereotype?
On the other end of this, we see people who are 'low functioning'. One of the – many – problems with functioning labels is that there so subjective. Who fits into what category? A seemingly common opinion is that those who can't communicate verbally nor take care of themselves to a neurotypical standard are 'low functioning' and it's ridiculous. I've seen the ableism here as well. Non-speaking doesn't mean unworthy of a voice, not at all, and someone who has a far better perspective of this than I do is Amy Sequenzia, a multiple disabled, non-speaking advocate who can be found here.
The easiest way to put it is that we're all autistic and fortunately some people in the medical community are listening. A common diagnostic criteria, the DSM-5, removed things like "Pervasive Development Disorders", "Asperger's Syndrome" or "Autism Disorder" using "Autistic Spectrum Disorder" instead. It has been argued – and I must say I agree – that "Classic" autism and "Asperger's" aren't far from functioning labels at all. They're used to distance autistic people from each other, and put us into boxes that aren't there.
I'm about to ruin this idea of a linear spectrum that we can find all over the internet and in real life. I would like to clarify that this:
is not the autistic spectrum. This is ableism. 
Functioning labels are a construct used to divide autistic communities, not a scientific fact. There is no such thing as 'severe' and 'mild' in the same way that 'high' and 'low functioning' don't exist.
The autistic spectrum is a circle. Sometimes I have executive dysfunction – where I physically cannot plan out the steps for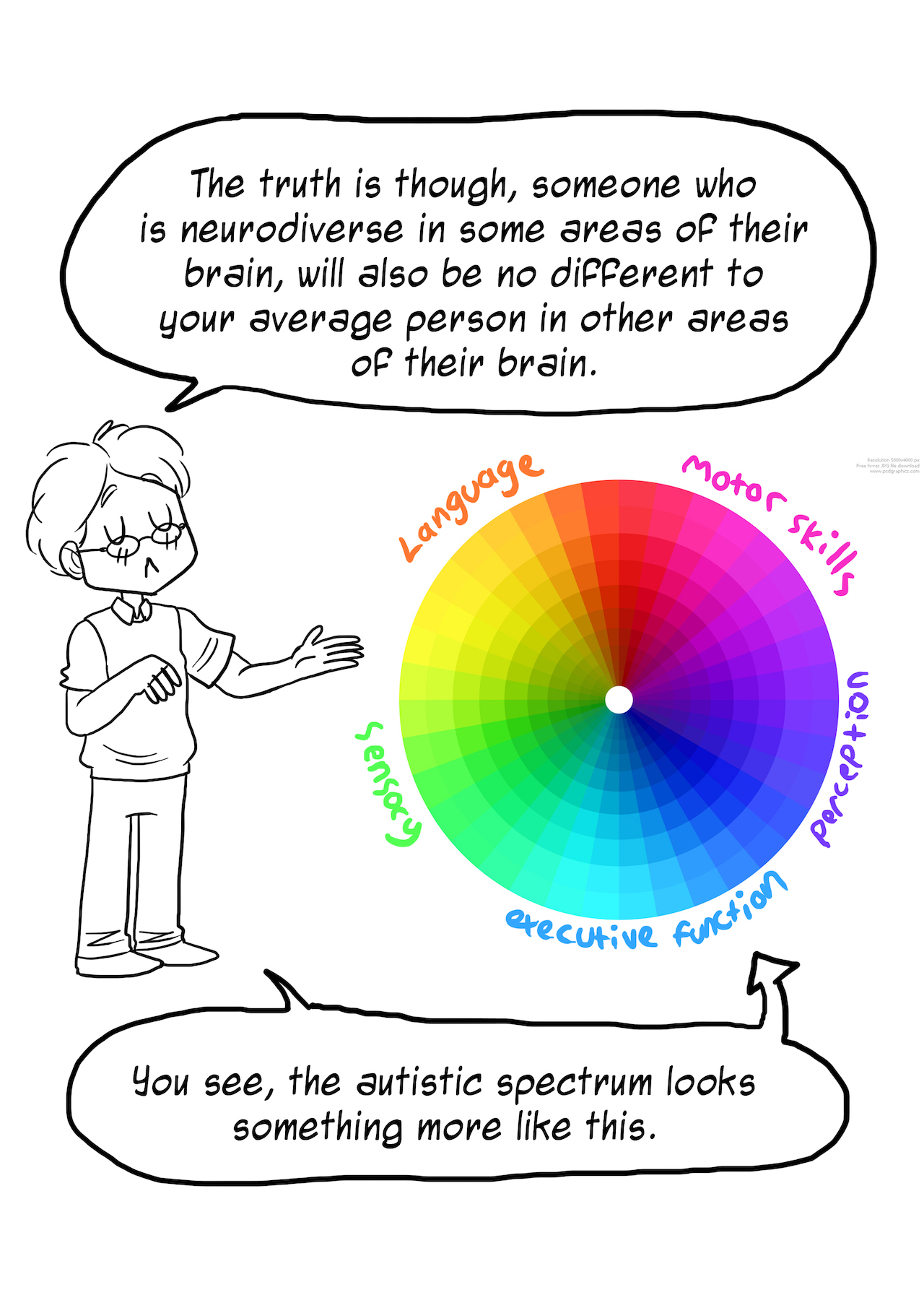 a task and complete it (something I do plan to talk about at some point) and sometime my executive functioning is wonderful! Sometime you will not be able to make me shut up, and others I'm completely non-verbal.  Sometime I remember to eat, and other I don't. It's a spectrum that varies from person-to-person, day-to-day.
Functioning labels are just a day-to-day, seemingly accepted form of ableism. They're not labels autistic people came up with, they're things that oversimplify a complex neurological variation and have no real definition.
Autistic people are promoting positivity as a response. Yes, I have meltdowns, struggle with things neurotypical people can do and experience sensory overload but that doesn't mean autism is a negative thing. Somethings are are struggle but that doesn't mean I should be denied the self love I've spent years working on.
Cure Culture and Awareness
Unfortunately, there are so many more forms of ableism I see in regards to autistic people. One is cure culture. I touched on this in my language preference post, where I discussed how an accepting society is what creates issues for disabled people. Basically, because we – disabled people – struggle, we should be cured. Because we need accommodations, we deserve a cure. I don't want to be cured because if you take away everything that makes me autistic, I'm not me. If you help me thrive as an autistic person, I'm me, without the struggles. As I said in my Language: Identity vs Person post, "If I were to take away her [my sister's] sensory experiences and subsequent responses, her likes and dislikes, her routines (or lack thereof), the way she moves, the way she thinks, how she communicates and how she acts socially, she wouldn't be my sister. She wouldn't be herself, with the defining things that make her her. This works with anyone, take away all the above things, take away those fundamental parts of who someone is and they're not themselves."
Sadly, one of the world's leading autism 'charities' promotes this agenda. Thankfully they do not have much hold here in England but I see how their words influence people over here. I present to you the cure culture promoting, autistic people ignoring hate group that disguises itself as a charity: Autism Speaks. You may not have heard of them but they promote a lot of ideas I'm against. I'll bring you a short summery here but Sabrina from strangerdarkerbetter.com posted a great collection of resources that can be found here.
Simply, they promote fear. Autism, to them, is a tragedy that should be cured because of the burden it places on autistic people's families. Not the struggles autistic people face, but their families. To them, we are not proper human beings. 13% of their money goes into a cure that autistic people don't want, though of course they don't know this because despite being called Autism Speaks, they do not listen to us. Functioning labels, to them, are a convenient silencing tactic – "you're too high functioning to have these struggles" or "you're too low functioning to understand".
44% of their money goes towards advertising. They use the puzzle piece logo, something that is rejected by the neurodiversity movement. It symbolises the 'mystery' autistic people are, which is not true. I'm not a mystery if you listen to me, but Autism Speaks don't listen. They also use the colour blue, something said to represent autism because autism is a 'boys' thing, apparently. They also promote awareness throughout the year, but mainly in April, their "Autism Awareness Month".
As a community, we've rejected this month and have reclaimed it under the name "Autism Acceptance Month". Something I've typed out before another post is the comparison to illness. Autism is a neurological variation, not a disease like cancer. In this context, we raise awareness for cancer so people understand what harm it can do. Cancer patients aren't rejected by people for having cancer because it's not fundamentally who they are. Autistic people are rejected for being autistic because it's fundamentally who we are. We don't need awareness, people are aware of us, they just don't want to listen to us. We need acceptance.
As this graph shows, less than four percent goes to helping autistic people. Four percent. This is why many autistic people – including myself – label it a hate group. Nearly 44% to their fearmongering campaigns, less than 4% to helping the people they're claiming to speak for.
(Amythest Schaber also has a video in her – incredible and informative – Ask An Autistic series dedicated to the discussion of Autism Speaks)
Infantilisation
Another form of ableism is the infantilisation of autistic people. Quite often, saying "I'm autistic!" means that we're seen as less of a person, and treated like children. I'm a sixteen year old autistic person, you don't need to coo at me like I'm a baby, I can assure you. I'm autistic and I struggle with somethings you might find easy, but that doesn't mean I'm a child.
Mental ages play into this as well. They are often seen to be just as ableist as functioning labels. I can't say I've ever personally experienced them used in regards to myself – thankfully – but a blogger, Cyndi from butterflyinthewell.tumblr.com has. She says "I was a victim of the 'mental ages' thing that autistic people get slapped onto them. The psychologist who diagnosed me told my mom 'mentally and emotionally she is always going to be an 8 year old.'" and goes on to say "I'm nearly 37 years old. I was 8 in 1988 and I stopped being 8 from 1989 onward."
(I felt this topic, especially Cyndi's words on it, were personal and not my place to share without prior consent so I did seek permission first! Thank you for letting me use them!)
These mental ages aren't helpful, they just contribute to the idea that autistic people aren't human beings in the way neurotypical people are. We're not children in the bodies of adults. We're people. Age for us is the same as it is for neurotypical people – the amount of years since we were born.
More Ableism
Ableism, in regards to autistic people, also extents further than this. We have anti vaxxers, who pay attention to a person who is no longer a doctor and his debunked research, and would rather have extremely ill children instead of an autistic child. We have violence towards autistic people, for no reason other than the fact they're autistic. We have so many forms of ableism.
I know this post is extremely negative but it's an important one that a lot of people won't see the discussion on. There are a lot of sources on this post to other websites so you can find out more about what I've been talking about.